As a medical student, you've spent years poring over textbooks and studying for some of the toughest exams. Now you're ready to get your first hands-on experience either as an intern or resident in a hospital or medical office setting. A professional medical student resume is the key to achieving this goal.
Medical school has given you all the information you need to complete a great resume, but if you're stuck on how to put it all together, we're here to help. With 300+ adaptable resume examples and guides, Resume.io is an expert resource for job seekers in all fields and areas of study.
This resume guide, along with the corresponding medical student resume example will cover the following topics:
What does a medical student do?
How to write a medical student resume (tips and tricks)
The best format for a medical student resume
Advice on each section of your resume (summary, work history, education, skills)
Professional resume layout and design hints.
What does a medical student do?
Medical students are those enrolled in accredited degree programs in the field of healthcare and medicine. Medical students study to become doctors in all specialties including, but not limited to, internal medicine, surgery, neurology, gastroenterology, oncology, cardiology, psychiatry, and pediatrics.
To become a medical student, you'll first need to complete a four-year degree at an accredited university. Then you may apply to medical school, where you'll spend the first two years in classroom learning, and the second two applying that learning in clinical rotations. After graduating from medical school, you can expect to spend three to seven years as a resident in a teaching hospital where you'll gain enough hands-on experience to become a full-fledged doctor. 
How to write a medical student resume
A medical student resume will need the same sections as most traditional CVs including
The resume header
The resume summary (aka profile or personal statement)
The employment history section
The resume skills section
The education section
Each of these sections will need to be adapted to the position you're applying for, the number of years of medical school you've completed, and the particularities of the medical field. The following chapters will discuss how to do that in more detail. Our adaptable resume sample can also serve as a model for your own document.
Your medical student resume should never be longer than one page. That means you'll need to be concise when explaining your experience, motivations, and educational background. In order to eliminate unnecessary details, first give the job description a thorough read-through. Make note of any particular qualifications, experiences, or coursework the employer is looking for. When writing your resume, choose only the most relevant examples that show how your experience or educational track aligns with the hospital's (or other employer's) needs.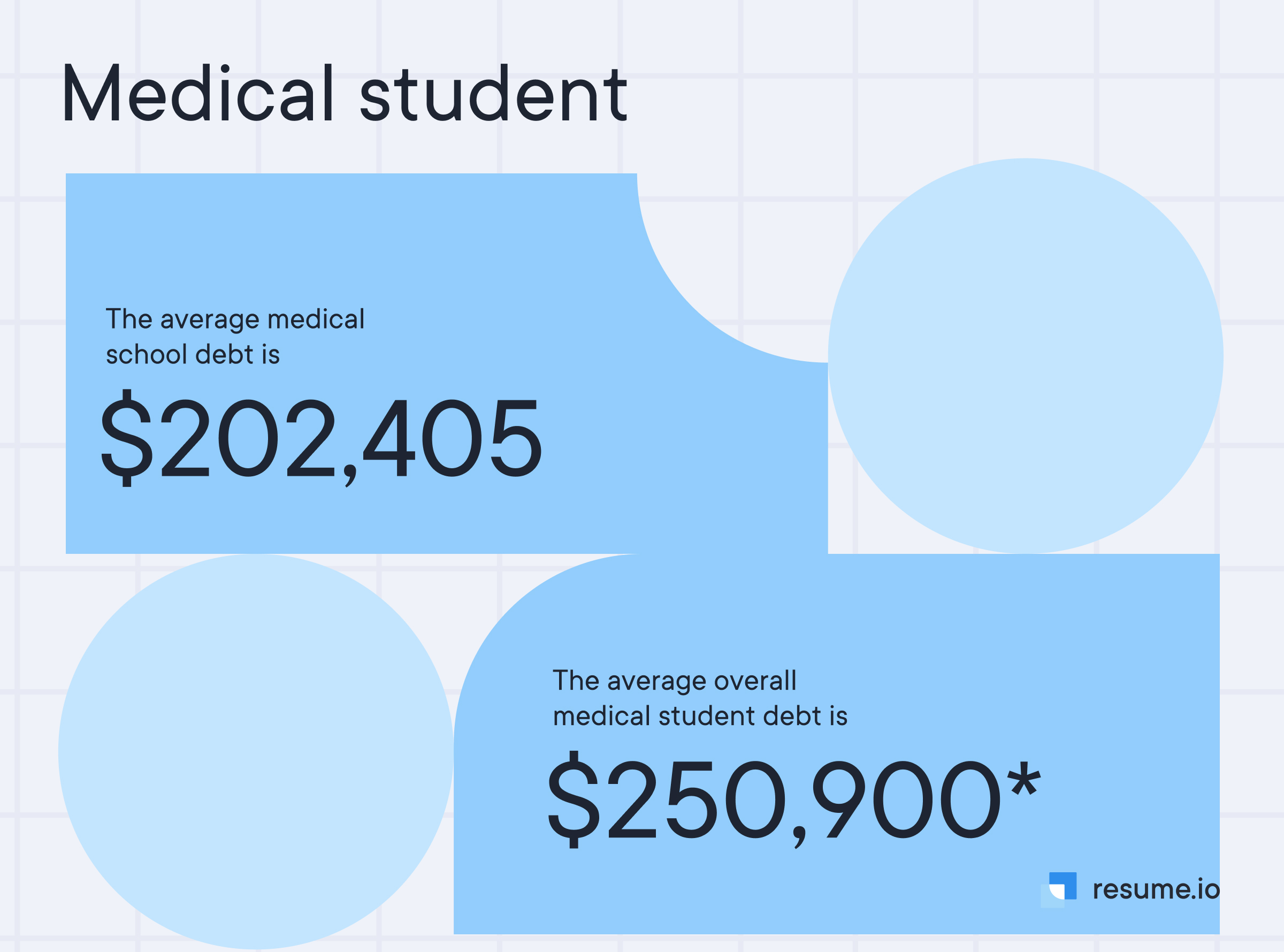 Choosing the best resume format for a medical student
The best format for a medical student resume is the one that looks as professional as possible. That's why we recommend the reverse chronological resume structure which is often regarded as the "standard" resume format. This structure gets its name from the prominence of the Employment History section where previous work experience is listed in reverse chronological order from the most recent to the oldest.
As a medical student, you may need to tweak your format to reflect your own experience. For example, while established professionals will place work experience at the top of the page, you'll likely choose to highlight your education first. You may also want to add additional sections for relevant coursework, teaching experience, or clubs and leadership opportunities.
Resume header
The resume header is the area located at the top, or sometimes the side, of the page where you can place your name and contact information and any basic details relevant to the role like the name of the school where you are a medical student. The resume header helps the reader identify your document but it also gives you the chance to add a touch of attractive formatting. As a medical student, it's important to keep the header clean and professional. Therefore, a standard font and neutral color scheme is the most appropriate choice.
Resume summary example
The resume summary is the section that can help you stand out from other medical students with the same coursework and clinical experience as you. This is the most freeform section on your resume where you can clearly state the position you are applying to, your motivations for applying, and the most important, relevant experience that you don't want the employer to miss. Since the summary is usually 3-5 sentences, the goal is to catch the hiring manager's attention so that they'll be more likely to read the details of your experience further down the page. Our medical student resume example can serve as a model for your own summary.
Adaptable summary resume sample
Astute, highly trained medical school graduate, well-prepared to leverage knowledge of evidence-based medicine to excel as a Resident Physician. Adept at communicating with an interdisciplinary team of physicians and nurses to provide compassionate patient care. Skilled in performing life-saving procedures on adult and pediatric patients. Excellent interpersonal skills, able to build rapport with patients and family members.
Expert tip
Watch out for the ATS
Applicant Tracking Systems (known as ATS) are algorithms built into online application portals. They're very common in the medical industry or anywhere you apply online. These resume scanners look for keywords programmed from the job description and rank candidates against each other. Only the top-scoring applicants move on to be reviewed by the hiring manager. Avoid being filtered out by placing keywords in the appropriate sections of your resume, especially in the summary and skills section.
Never try to beat the ATS by lying about your experience or hiding keywords throughout your resume. You may get past the bots but you'll soon be in the hiring manager's bad graces.
Medical student resume education example
The education example is one of the most important sections on your resume. After all, you are a medical student. Place this section high up on your resume, usually right after the summary. List your education in reverse chronological order, starting with your current degree. Include the school name, degree program name, dates attended (or an expected graduation date if you haven't finished studying yet), and location. You can also include one or two bullet points under each entry to make note of your grades, coursework, leadership positions, or any outstanding achievements that you don't want the employer to miss.
If you have several awards, memberships, or publications, you may choose to create separate sections for each of these categories, or you can roll them into the education section under the corresponding degree. See our medical student resume sample for more insight.
Adaptable education resume example
Doctor of Medicine (MD), Tufts University School of Medicine, Boston, MA 
September 2018 - June 2022 
Bachelor of Science in Biology, Princeton University, Princeton, NJ 
September 2014 - June 2018
Employment history sample
The employment history section is where you list your previous work experiences related to your studies in medicine. You may need to rename this section to "Professional Experiences" to show a wider range of activities both in and outside of school. However, be sure to list only jobs that have a connection to healthcare. A stint as a secretary in a family practice is great for your resume, but you'll want to leave off the summer spent waitressing at a local restaurant. 
One of the most overlooked experiences for this section is the clinical rotations every medical student is required to complete. Although they were part of your education, they can serve as great fodder for a discussion about your skill and interests. For every entry, make sure to include the name of the role, the employer's name, dates worked, and location. Then create 4-5 bullet points showcasing your duties, accomplishments, and responsibilities. You can get a feel for how to structure the bullet points by checking out our medical student resume sample.
Adaptable employment history resume example
Medical Student - Clinical Rotations at Boston Hospital, Boston, MA
September 2020 - June 2022 
Completed clinical rotations in emergency medicine, internal medicine, pediatrics, obstetrics and gynecology, neurology, psychiatry, and general surgery.
Under close supervision of attending physicians, conducted daily rounds to review a broad range of cases.
Collaborated with interdisciplinary teams to provide high-quality care using evidence-based approaches.
Observed and assisted with surgeries ranging from outpatient laparoscopic procedures to open heart surgery.
CV skills example
The skills example of your resume, or CV, should be a list of your can't-miss qualities that show the employer why you're perfect for the job. Read the job description closely and look for the skills you have that align with the employer's requests. Make sure to include a mix of hard and soft skills so that you show the employer you're both empathetic and you've got the right technical abilities for the job. Check out the skills section on our medical student resume example to see how this is done.
Adaptable skills section resume example
Evidence-Based Medicine
Internal Medicine
Family Medicine
General Surgery Emergency/Urgent Care
ICU/CCU
Preventative Care
Anatomy & Physiology
Diagnosis and Treatment
Clinical Rounds
Interpersonal Communication
Critical Thinking
Expert tip
The ability to speak one or more foreign languages is one of the most in-demand skills for medical professionals. If you're bilingual, don't hesitate to place your second language and fluency level in your skills section. If you're not a native speaker but have studied another tongue, make sure that you're comfortable using that language in a medical setting before you place it on your resume.
Resume layout and design
While the layout and design of your resume needn't be complicated, get this part wrong and you could ruin your chances of landing the job before the hiring manager ever reads a word of what you've written. 
As a medical student, your layout should be clean and professional, and free of flashy colors, "creative" font styles, or excessive design elements. A neutral color palette is considered best for the medical field. However, you may choose to make your name and contact details a bit bigger than the rest of the text in order to stand out on the page. A simple line or bolded subheadings can also give a touch of attractive formatting without being over the top. An expertly-designed resume template can help you strike the right balance.
Key takeaways for a medical student resume
Medical students should focus on creating professional resumes that include only their most relevant experiences and achievements.
Keep your education section high up on the page so that the employer can learn more about your background.
Don't overlook your clinical experience when creating the employment history section.
Check out our adaptable medical student resume sample for more tips on creating a professional layout and design.