What's the difference between a persuasive CIO resume and one that's adequate for most other IT job seekers? Whether you're aiming for a promotion, or you already have senior executive experience in a comparable role, it's crucial to demonstrate a strategic big-picture mindset. This equips CIOs to view an organization's goals through a longer and wider lens than IT roles require at the operational level. 
Resume.io can help you address all dimensions of a winning CIO resume strategy in this writing guide. Step by step, we'll refer to wording you can adapt from a CIO resume example. Topics we'll cover:
What a CIO does and employment prospects in the years ahead
How to write a CIO resume  — the essential structure and optional format considerations
A cohesive strategy for each resume section: header, summary, employment history, education and skills
Looking the part of a professional in your resume layout and design
Expert tip
An ever-expanding library of 350+ occupation-specific resume examples and writing guides is the mainstay of Resume.io's online resources for job seekers. Browse for ideas and inspiration at any stage of preparing your own resume.
What does a CIO do?
CIOs are responsible for managing and implementing an employer's information and computer technology systems. The scope of their authority and duties depends largely on an organization's size.
Few roles have changed so dramatically through the decades as technology has continued to transform global markets. It's not enough for CIOs to keep pace with the latest digital breakthroughs, given their fortune-telling function. Always looking ahead of today's IT trends, they continually analyze ways to optimize technology so organizations can operate more efficiently and stay competitive.
What most CIOs have in common — by virtue of "chief" in the job title — is their top executive ranking above other IT managers and staff. Like their chief officer counterparts heading other departments such as finance or HR, CIOs usually play a part in developing strategies and policies that jive with the organization's overall goals. Their broader, higher-level IT perspective addresses longer-term impacts.
Statistical insight
Not surprisingly, CIO salaries can be a basis for income envy.
The Wall Street Journal recently reported an average CIO salary of $287,500 in 2022 — a 21% jump from 2021. Experienced CIOs at large firms can earn up to $350,000, compared to $300,000 last year.
In the same ballpark is the $308,350 average annual pay for comparable positions reported by salary.com. Annual salaries posted by these online sources fall in a lower range:  glassdoor.com — $185,986 (median) and payscale.com — $171,562 (average).
Median annual wage data from the U.S. Bureau of Labor Statistics (BLS) in 2021 is imprecise because CIOs straddle two different BLS categories: computer and information systems managers (no top-level breakdown) —  $159,010 and top executives — $98,980
The BLS projects robust job growth for computer and information systems managers — a 16% increase from 2021 to 2031, much faster than the occupational average. But the prediction for top executives is just 6%.
How to write a CIO resume
The specifics of every CIO resume depend on the job being sought and the employer. But regardless of the content, it should always be organized to include these essential components, confined to a single page:
Header
Summary
Employment history
Education
Skills
 
What recruiters will likely take for granted in your CIO resume are your well-earned bragging rights as a top-flight IT specialist with advanced career experience. But the same could be assumed about other serious contenders for the same position. 
So on a playing field that's even in many qualifying respects, think of extra points you might earn by sounding different. As stated at the onset, that distinction could come across in a resume highlighting your strategic strengths, not merely IT knowledge. 
To convince any employer of your potential value on its senior management team, you need a solid understanding of CIO hiring wish list priorities. Carefully scrutinize the career ad posting to pinpoint what's needed and expected. This will guide your judgment calls to selectively keep all resume content specific and relevant.
Expert tip
Pay close attention to the employer's job description terminology as a basis for matching your resume wording. Notably, identify keywords to include wherever possible to help avoid rejection by automated applicant tracking systems (ATS) software.
Choosing the best resume format for a CIO
Resumes are intended to tell a story of growth and accomplishment along someone's career path. That's why the most commonly used chronological resume format is ideal for most job seekers, including CIOs. It traces your work history progressively in bullet points pertaining to each employer, listed in reverse order from most recent to earliest dates. 
The functional (skills-based) resume format is geared more toward self-employed professionals in consulting roles, career-changers, or workforce newcomers lacking experience. The hybrid (combination) resume format has both chronological and functional elements.
Resume header
Give the CIO recruiting team a head start getting in touch with you if your resume is shortlisted at any hiring stage. It's that much easier when your name and contact information are displayed in an eye-catching resume header. This design element can help your job application stand out from the rest, and is especially effective on a matching pair of resume and cover letter documents. It also offsets the text blocks to a reader-friendly effect by enhancing the white space balance.
CIO resume summary example
We've touched on the importance of standing out in a job competition as an exceptional CIO, not just a good one. This needs to happen straight away in your resume summary (sometimes called a profile or personal statement). It's your first chance to wow recruiters, and it could be your last chance if they are not impressed enough to read any further.
So go for the gold — make every word count in this brief elevator pitch, with the hope of getting your foot in the interview room door. In just three or four concisely focused summary statements, offer a handful of win-win reasons why this employer should hire you. To illustrate your most relevant abilities and traits being put to good use, cite at least one shining accomplishment with relatable results.
Below is a CIO resume profile example you can adapt to your own situation.
Adaptable summary resume sample
Seasoned executive with expertise in defining information technology strategy and roadmap to drive digital transformation. Partner with key stakeholders, C-level executives, and senior decision-makers to align technology with business needs. Adept at leading cross-functional teams of direct and indirect reports.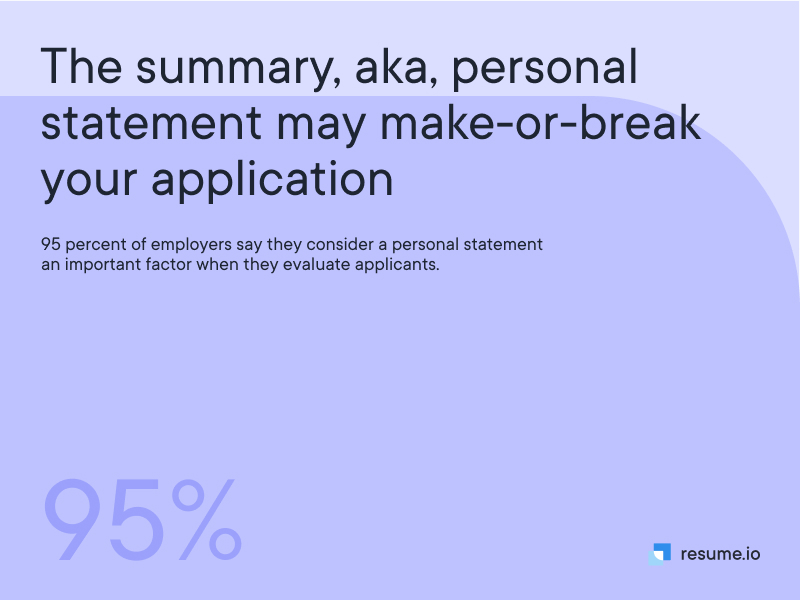 Employment history sample
This resume section should effectively showcase your strategic abilities in action. Where do your analytical and conceptual skills as a visionary problem-solver intersect with beneficial IT solutions? Employers are interested in the promise of your past performance — actions and outcomes you can deliver again. 
Again, relevance and keywords are the best guideposts for matching work experience highlights to the target CIO role requirements. 
More tips for creating impressive bullet points here:
Use dynamic action verbs, in the active voice, to describe what you did/do. Banish "responsible for" to your "taboo resume lingo" list.
Describe accomplishments in "why" and "how" terms, tied to successful outcomes.
Add performance-related facts and figures to quantify benefits to the employer
This employment history section from our CIO resume sample can give you ideas for writing your own.
Adaptable employment history resume example
CIO, Cascade Insurance Company, Hope, AR
March 2017 - Present
Oversee information technology strategy to support long-term business goals and anticipated growth.
Recruit and lead high-performing IT leadership team focused on ensuring day-to-day operations align with overall vision.
Steered large-scale transformational initiatives to replace legacy on-premises systems with cloud and hybrid solutions.
Improved information security posture and implemented comprehensive disaster recovery plan.
Director of IT, Cascade Insurance Company, Hope, AR
February 2012 - March 2017
Managed 17-member team of technology professionals responsible for IT operations, network performance, and end-user support.
Led migration of 300+ business users from Windows XP to Windows10with no downtime.
Saved $150K per year by renegotiating contracts with professional services companies.
CV skills example
Your CV skills list can seem deceptively simple to create, especially for someone with an abundance of hard skills, perhaps subcategorized as technical skills or computer skills. But don't overlook the soft skills that seem vital to the CIO  role, notably leadership and interpersonal skills. And what about these skills: conceptual, analytical, critical thinking, organizational, communication, collaboration, and time management?
Obviously, they won't fit all fit on your CIO resume page. The trimming process may be tougher than anticipated. These rules of thumb can help you get a grip on an unwieldy skills list:
Be sure to include all of the skills mentioned in the posted job requirements. This might be one more ATS-proofing opportunity to use keywords.
Otherwise, directly relevant skills that could set you apart from other job contenders should take priority.
Avoid repeating any skills that are stated, or implied by example, in your resume summary or work experience descriptions.
Check out a CIO resume sample for the skills section below.
Adaptable skills section resume example
Information Technology
Digital Transformation
Team Leadership
Strategic Planning
Budget Management
Cloud Computing
Microsoft Azure
AWS
CIO resume education example
There's no need to overthink your resume's education section, no matter what your post-secondary learning path looks like. 
Simply list the relevant degrees you've earned and colleges attended in reverse chronological order, from highest to lowest levels. Include scholastic awards or other special honors if it adds value. 
Diplomas, certifications, and internships relevant to your executive development as an IT specialist also belong here. The same goes for professional memberships offering elevated learning opportunities.
Below is the education section from our CIO resume example.
Adaptable education resume example
Master of Science in Information Technology, Rutgers University, Camden, NJ
September 2012 - June 2014 
Graduated Summa Cum Laude
Bachelor of Science in Computer Science, Kean College, Union, NJ
September 2008 - June 2012
Minor in Management Information Systems
Resume layout and design
Looking right for the CIO role you aspire to would naturally be part of your interview preparation strategy. Your choice of attire for the occasion would help you appear to belong and fit in already. Now, taking a step back, try to imagine not landing that interview — and not for the lack of a word-perfect resume. If that document fails to look as good as it sounds at first glance, the chance to meet interviewers face-to-face might never happen. 
Here are some layout and design "dress for success" tips:
Strive for a visual impact that's striking, but gimmick-free. Less is more when it comes to an orderly, cohesive, streamlined layout. 

 
A bit of creativity can go a long way, impact-wise, but keep it sparing and understated. 

 
Conforming to the default one-inch margins on all sides of the page offsets the balance between text block weight and white breathing space. Adequate line and paragraph spacing also contribute to reader friendliness.
Readability should dictate your font choices. Stick to one style and size for all body text, and only one other compatible style for header text and section titles.
Expert tip
A put-together look sends a message about your confidence as a CIO dealing with multiple complexities while keeping things simple. Your resume layout and design should also fit the hiring organization's image and workplace vibe. Resume.io's resume templates can help you capture the right visual elements while making the writing process quicker and easier. Take your pick from four style categories, then simply click to download and start entering your own replacement text using our builder tool. 
Key takeaways for a CIO resume
Your foothold in one of today's most dynamic job markets starts with an outstanding CIO resume that captures both your strategic knack and IT expertise.
A custom-tailored resume addresses the employer's need for a proactive CIO who envisions roles that technology can play in the overall corporate success story.
Take direction from the posted job ad to pinpoint priorities for selecting the most relevant resume content.
Be mindful that language also matters — particularly ATS-proofing keyword use.
Boost the impact by quantifying your achievement descriptions with numbers and percentages.