For the perfect storm of seemingly infinite career opportunities, look no further than healthcare project management. Wherever your experience lies in one of these crossover occupational categories, an outstanding healthcare project manager resume lets you set the bar high for pursuing the best jobs.
With 300+ occupation-specific writing guides and resume examples, Resume.io is an expert resource for job seekers at every stage of their careers. This healthcare project manager guide, along with the corresponding resume example, will cover the following topics:
What healthcare project managers do
How to write a healthcare project manager resume, starting with the best format and general writing tips
Advice for each resume section: header, summary, work history, education and skills
Professional resume layout and design hints.
What does a healthcare project manager do?
As one of the oldest occupational fields in human history, healthcare (sometimes spelled "health care" as two words) is ever-evolving into a wider range of subcategories covering the gamut of wellness. Practitioners and support workers deliver services in a vast number of specialized fields including medicine, dentistry, pharmacy, midwifery, nursing, optometry, audiology, psychology, occupational therapy, physical therapy, medical lab technology and scores of others. 
Having come into its own as a modern career path option, project management is a field that's equally sweeping and dynamic, spanning a broadening variety of industries. The common denominator is the ability to lead, guide and track solution-focused project activities from start to finish. Regardless of how much hands-on responsibility project managers have for juggling these balls simultaneously, the oversight they provide is crucial to delivering results on time as budgeted. 
Within any given healthcare organization, the spectrum of projects needing to be managed can know no bounds. From hospital expansions and electronic health record upgrades to food service contracts and patient satisfaction surveys, the project scale can be massive or modest.
Statistical insight
Driven by aging population demographics, the explosive rate of healthcare job market growth means demand for project managers in this sector is just as robust. According to the U.S. Bureau of Labor Statistics, healthcare employment is projected to grow 16% percent from 2020 to 2030, much faster than the overall occupational average. Even more staggering is that the pace of employment growth will be twice as fast — 32% — for medical and health service managers. 
How to write a healthcare project manager resume
Your healthcare project manager resume should fit on one page and include these components:
Header
Summary
Employment history section
Education section
Skills section
Expert tip
For two important reasons, you should customize your resume for the specific job application and optimize it for applicant tracking systems (ATS). 
Speaking directly to the needs of specific employers or clients conveys that you're an excellent fit for this healthcare project manager position
Resumes containing the right keywords have a better chance of passing through the ATS software that many hiring organizations use to electronically filter online job applications.
Choosing the best resume format for a healthcare project manager
The most commonly used chronological resume format is also what recruiters generally prefer. If your work experience in healthcare and/or project management has been mostly in employee roles, it's likely the most suitable CV structure to apply. Job highlights are listed below employer headings with dates, in order from most recent to earliest.
Other resume formats are worth looking at if your career background is less straightforward, however diverse or concentrated. Project managers who have worked independently in consulting roles might consider a functional resume format, organizing their accomplishments by project, client or even specific transferable skills. Hybrid (combination) resume formats, with both chronological and functional elements, are another versatile option. 
Resume header
Never underestimate the importance of an eye-pleasing resume header, not only for esthetic reasons. It clearly identifies who your resume belongs to and how interested employers can instantly reach you. It also makes your resume look inviting to read, which busy recruiters appreciate. Check out our healthcare project manager resume sample for more ideas on how to create a great header.
Resume summary example
The summary (sometimes called "profile" or "personal statement") is where hiring managers get an immediate sense of your promise and potential. Yes, it's a synopsis of your most remarkable and relevant qualifications, but intention-wise, it's not all about you. It's about how the healthcare organization would benefit from your contributions as a project manager. 
This expression of "what's in it for you if I'm hired" must come across in just a few neatly crafted statements. All the details will follow in later resume sections, while your summary hits the high notes to catch the reader's attention.
Let hints of your personality and purpose shine through in this mini-success story. Using descriptive and dynamic action verbs will help create an energetic, self-assured tone.
Below is a healthcare project manager resume example summary you can customize.
Adaptable resume summary
Dynamic and highly skilled healthcare project manager adept in leading the delivery of healthcare-specific programs. Committed to providing exceptional management for all phases of capital projects such as budgeting, planning, bidding, commissioning and close out services.
Employment history sample
Writing the employment history section of your healthcare project manager resume might seem like a breeze. But remember our earlier advice about the whole document fitting on a single page. The more work experience you have, the more effort it might take to narrow the focus on directly relevant highlights. 
Help recruiters envision the benefits of hiring you. They are far less interested in your past job titles and duties than in what you achieved in those roles. Results that could be replicated for this healthcare organization are what will make them sit up and take notice.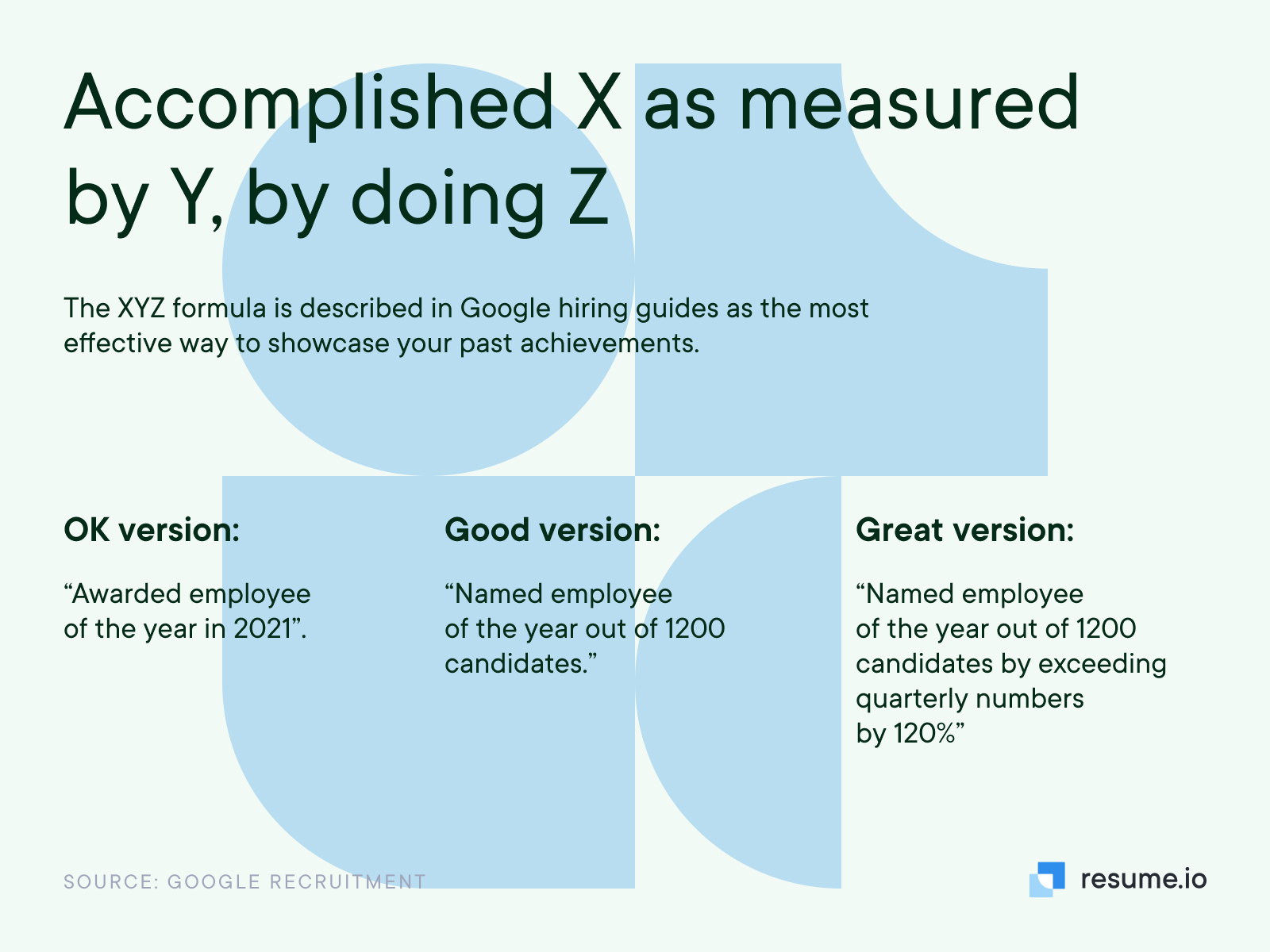 There's a knack to describing key accomplishments concisely and impressively. For each carefully chosen bullet point, distill the information into a three-part synopsis: action verb, specific task and tangible benefit. Project managers have an advantage when it comes to measurable results, quantifiable that with facts and figures. Cite dollars and percentages to substantiate outcomes such as cost savings, efficiency improvements and client satisfaction ratings.
Below is a healthcare project manager employment history resume sample you can use while writing your own.
Adaptable resume employment history example
Healthcare Project Manager, Prestige Consumer Healthcare, New York
September 2016 - August 2021
Provided leadership throughout all aspects of owner representative/project management, goal setting and productivity.
Established and maintained highly complex project budgets and cash flow analyses.
Reviewed orders, invoices and financial decisions to ensure the success of company operations.
Developed and monitored project schedules.
Worked to cultivate and foster client, consultant, contractor and vendor relationships.
Provided helpful guidance and direction in project management to less experienced team members and colleagues.

Senior Project Manager , Cheron Healthcare Systems, New York
February 2013 - July 2016
Developed detailed healthcare project plans and monitored them from start to finish.
Worked to develop solutions regarding crucial issues, and reported on project milestones.
Handled the overall management, performance, and completion of multiple concurrent projects.
Assembled project teams and assigns individual responsibilities and tasks.
Measured performance using appropriate tools and techniques.
Worked to foster mutual trust and encourage respect and cooperation among team members.
Healthcare project manager resume education example
Recruiters will compare this section of your healthcare project manager resume to that of other candidates from diverse educational backgrounds. Undergraduate degrees in health administration or business administration are typical, and some universities now offer healthcare project management as a major.
In any case, list your most relevant and recent college degrees in reverse chronological order, from highest to lowest level. Mention awards or other special achievements, including an impressive GPA if you graduated fairly recently.
Any diploma programs, internships and on-the-job training should appear here too, along with workshops or online courses you've completed as a job requirement or on your own. Professional association memberships are also worth mentioning to show your commitment to further learning as well as networking.
Expert tip
Certifications add value to the education section of your resume, showing recruiters your diligence in pursuing enhanced learning opportunities. The number of options for both healthcare administrators and project managers reinforces how varied the educational backgrounds could be for healthcare project management job applicants. The more versatility you can demonstrate in your resume the better.
Below is the education section from a healthcare project manager resume you can modify.
Adaptable resume education example
Bachelor of Science in Public Health, NYU, New York 
September 2008 - May 2012
Summa Cum Laude.  

High School Diploma, Xavier High School, New York 
September 2004 - May 2008
CV skills example
Now matter what your mix of career experience looks like, the list of skills that could potentially appear on your healthcare project manager CV will require careful cherry-picking. Again, it's essential to take the employer's perspective in custom tailoring this resume section. The skills most likely to give you an edge will reflect your understanding of what this healthcare organization needs and values, not just what recruiters expect to see in the way of generic abilities. Those they are most interested in are geared to the specific types of projects needing to be managed in this healthcare setting.

Bear in mind that soft skills are vitally influential, alongside the hard skills that come with the territory of being a project manager. Try to convey how well you would communicate and get along with others — not just project team members and stakeholders, but also healthcare service providers, patients, support workers, suppliers and other managers.
Check out our healthcare project manager resume sample for the skills section below.
Adaptable resume skills section example
Agile Project Management
Healthcare Systems
Knowledge of Public Health Policies
Interpersonal Skills
Effective Team Leader
Resume layout and design
A visually attractive resume design and orderly layout will score points in your favor before readers dig into the content. It should look like you care about getting this healthcare project management job, just as you'd want to look your best during a face-to-face interview. 
The first-glance impact should be striking in every professionally polished sense. Your choices of fonts, text formatting, graphic elements and touches of color should be thoughtful when it comes to attracting attention without distracting the reader. Go leaner with unbroken text blocks by amplifying your page margins, line and paragraph spacing and overall white space for proportion and balance.
Perhaps consider aligning your resume's graphic style with the employer's own visual brand, taking cues from the organization's web pages and printed materials.
Expert tip
To save time and leave nothing to chance, you may consider using a professionally-designed resume template as a starting point for your application.
Key takeaways for a healthcare project manager resume
Explosive growth in the healthcare job market is creating unprecedented career opportunities for project managers.
Pinpointing what the hiring organization needs and values is how you strategically target your resume in relatable terms. This also helps in matching keywords to pass through ATS filters.
Convey your understanding that communication and interpersonal skills are vitally important in a healthcare project management role.
Check out our healthcare project manager resume sample for more ideas on creating a top-notch page layout.