Marketing is increasingly competitive. If you're looking for a way to get a foot in the door, embarking on an internship program is the way to go. However, when you're up against hundreds of other candidates, proving that you're the right person for the job can be tough. 
You only have one page to grab the hiring manager's interest and hold onto it. So, how can you create a resume that showcases your talents and leaves them wanting more? If you're hoping to answer that very question, the good news is that you're in the right place. 
Here at Resume.io, we have everything you need to ramp up your job search. We provide expert-backed resume writing guides along with 350+ resume examples you can take a peek at too. In the following guide, along with the marketing intern resume sample, we will be covering: 
What a marketing intern does on a day-to-day basis
How to write a marketing intern resume (tips and tricks)
The best format for your resume
Advice on each section of your resume (summary, work history, education, skills)
Professional resume layout and design hints.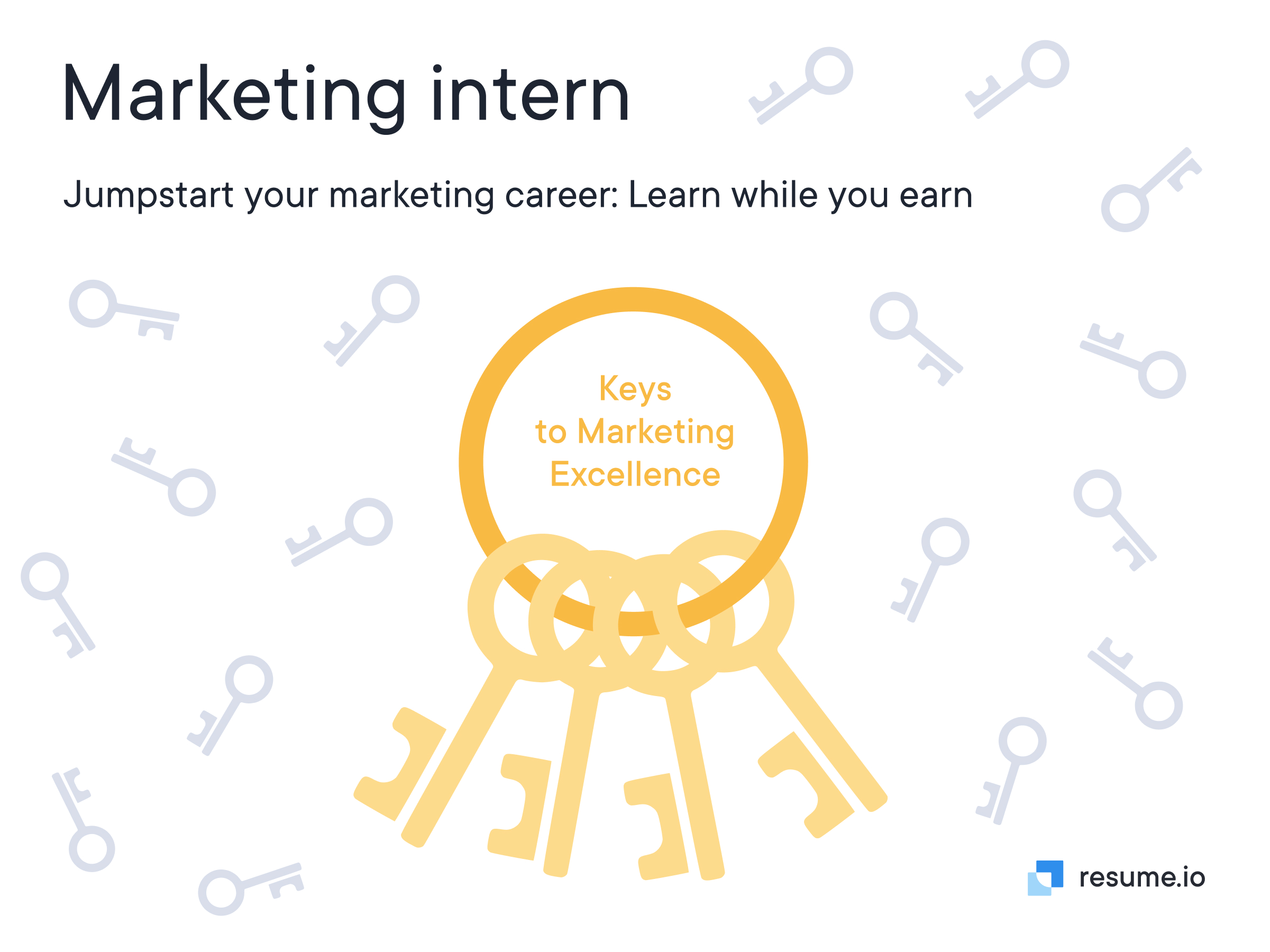 What does a marketing intern do?
As a marketing intern, you will find yourself supporting the marketing team. That means helping out with ongoing promotions or campaigns. Your role may involve a selection of administrative duties. However, there will also be the chance for you to learn new skills. 
Your exact tasks will depend on the business you join — and whether it's a commercial company or a marketing agency. Despite this fact, there are some core duties that you can expect to land on your shoulders. Here are some of the activities you may need to do: 
Supporting the marketing team with their administrative needs
Undertaking marketing analysis and reporting to your manager
Helping out with creative tasks, such as design and marketing copy
Performing both quantitative and qualitative market research
Creating promotional presentations for the wider team
Assisting when it comes to organizing large-scale promotional events
Distributing various marketing and promotional materials
Social media marketing activities — e.g. Facebook adverts
Maintaining the customer relationship management systems (CRM)
Statistical insight
How much do marketing interns make?
If you're looking for your next internship, you may be wondering how much you will make along the way. Keep in mind that internships are about learning new things… not necessarily getting a massive paycheck. According to a report from Indeed, marketing interns make an average of $20,343 each year or around $15.51 per hour. 
While that may not be the most cash, undertaking an internship could provide you with invaluable marketing know-how and qualifications. If you want to land yourself a role as a marketing executive one day, this is the first step on the career ladder. 
Marketing is a broad umbrella. When you decide to undertake a marketing internship, you may want to specialize in a specific sector. For example, you might want to learn about social media marketing, direct marketing, or even sales and marketing. When you are searching for internship opportunities online, look for vacancies that suit your skill set.
How to write a marketing intern resume
Ready to apply for an internship? The first step in this process is understanding the basic structure of a resume. Hiring managers don't spend a whole load of time looking at each incoming application. Research indicates that they look at each resume for just seven seconds. In that time, they need to digest all of the relevant information. To make their job easier, you should stick to a traditional structure. As such, your CV should include: 
The resume header
The resume summary (aka profile or personal statement)
The employment history section
The resume skills section
The education section
The marketing world is increasingly competitive with far more applicants than openings. If you want to land yourself an internship, you're going to need to stand out from the crowd. Selling yourself — and the skills that you bring to the table — is a must. There may be hundreds of candidates with the same qualifications as you. So, what makes you unique? 
When you are writing your marketing intern resume, you need to keep this question firmly in your mind. The content needs to focus on your talents and any special skills you have. Try to go above and beyond when it comes to your resume. Simply giving the hiring manager basic details about your qualifications and experience won't cut the mustard. Think bigger. 
You're marketing yourself in your resume — so pick your words wisely. Use captivating vocabulary to showcase your writing talents and make sure that the tone is engaging. If you send the hiring manager to sleep with your writing, they aren't going to hire you. Peppering your marketing intern resume with powerful action verbs is a great start here.
Cut the colloquial language. While you may want to come across as "friendly" or "approachable" in your marketing intern resume, this approach can make you look like an amateur. You are applying for a professional role and the tone of your resume needs to reflect that. Be sure to use formal language rather than shorthand or even slang. 
Expert tip
Optimize your marketing intern resume! 
You want to make sure that a human reads your resume. However, many of the leading companies now use Applicant Tracking Systems (ATS). The software filters incoming applications so that the hiring manager only has to read the most relevant resumes. 
So, how does it all work? These programs use keywords and phrases to rank each application by how well it fits the criteria of the vacancy. The more appropriate keywords a resume includes, the more likely the program is to rank it highly. The software then delivers the "top matches" directly to the hiring manager, making their job easy. 
If you want to make sure that your resume makes the cut, you should optimize your resume for the ATS. One way you can do that is by including the right keywords in your resume. Take a look at the original job posting and pick out any job-related words. Weaving these throughout your resume may give you a better chance of success. 
Choosing the best resume format for a marketing intern
Next up, you need to choose the right resume format. As a rule, we recommend using a reverse chronological approach. This is the standard layout. You start with your most recent accolades at the top of the document and then work your way backward. Hiring managers expect this structure and will thank you for it. 
Since you're applying for an internship, you may not have a wealth of work experience. For that reason, you can also consider the functional resume format. This structure emphasizes your skills and qualifications as opposed to your industry experience. Should you need help deciding which way to go here, take a quick look at our formatting guide.
Need some inspiration when it comes to formatting your resume? Take a quick look at our related resume examples:
Resume header
The resume header may be the first thing that a hiring manager sees. It includes your basic information: your name, location, and contact details. While that may not be the most captivating part of your resume, you should pay attention to it. Designing an easy-to-read and attractive header is the answer. Ensure that the text is legible and clear too. 
Resume summary example
Also known as a profile, your resume summary is a three-to-four-line blurb about you. It is crucial to get this part of your resume right when applying for an internship. The hiring manager won't expect you to have much experience — if any — but they will expect you to have the right attitude. Use this creative part of the application to show them your personality. Figure out what makes you a unique candidate and focus on that here. 
Adaptable summary resume sample
Highly motivated and creative Marketing Intern with a passion for creating eye-catching campaigns to build brand awareness.
Employment history sample
Chances are, you don't have any marketing-centric experience. That's okay. Internships are entry-level roles and so it makes sense that this is your first position in the industry. However, if you have other relevant experience, you may want to include it here. You can focus on your transferable skills and what you learned in each of the positions. As we have already mentioned, you should use the reverse chronological structure. 
Adaptable employment history resume example
Marketing Intern at Kelly's Books, Seattle, WA 
March 2023 - June 2023 
Refined contact lists, edited copy, and analyzed metrics to increase email open rates.
Collaborated with marketing specialists to write web copy using SEO best practices.
Maintained Instagram, Facebook, and Twitter social media accounts.
Gained experience in marketing automation using Marketo.
Resume skills example
What skills should you include on your marketing intern CV? If you want to impress the hiring manager, you need a diverse list featuring both hard and soft skills. If you studied marketing in college or in an evening class, you may already have a range of hard skills. These are the competencies that apply to the industry, such as SEO and data analysis. 
Of course, you also need to include some soft CV skills. These are the talents that allow you to work well with other people, a trait that is vital in marketing. You might include things like communication, collaboration, creativity, and storytelling, for example. 
Adaptable skills section resume example
Communication Skills
Social Media
Email Marketing
Analysis & Reporting
Marketing Strategy
Branding
Ad Campaigns
Adobe Photoshop
Digital Marketing
SEO
Collaboration
Microsoft PowerPoint
Marketing intern resume education example
When you're applying for an internship, the hiring manager will be eager to learn what qualifications you have. You should list your certificates in reverse chronological order on your resume. Include the school or college, the certification, and the years that you attended. You can also include any special awards or training you have completed. 
Adaptable education resume example
Bachelor of Science in Marketing, University of Puget Sound, Tacoma, WA 
September 2019 - June 2023 
Courses: Marketing Management, Strategic Marketing, Innovation, Integrated Marketing Communications, Digital Marketing, Marketing Analytics, Consumer Behavior
Honors: Magna Cum Laude, Department Honors, Dean's List
Affilation: Mu Kappa Tau National Marketing Honor Society
Activities: Student Government, Digital Marketing Club
Resume layout and design
Looks aren't everything but — if you want to wow the reader — they do matter. When you're creating your resume, there are some design rules you need to keep in mind. 
Do
Use a creative-style template. You're applying for a role in the creative sector, after all!
Make sure you space out the sections well. The gaps between each of the parts should be even.
Include a splash of color, where possible. You want your marketing intern resume to be attractive.
Don't
Try to cram too much information onto the page. It's better to leave some space where you can.
Choose an OTT font style. You need to make sure that the hiring manager can read your resume.
Use more than two font styles. You should be aiming for a level of consistency with your resume.
Want to take all of the hassle out of creating your resume? Check out our field-tested resume templates to give you a head start. We've got loads of pre-designed options! 
Key takeaways for a marketing intern resume 
Breaking into the marketing sector can be tough, especially when you lack the proper experience. Writing an engaging marketing intern resume is the first step.
Your resume is your chance to sell yourself to the hiring manager. Use enticing language to show them that you have what it takes.
Mix up your CV skills to show that you're a well-rounded candidate. You should include both hard and soft skills on your resume.
Your marketing intern resume needs to look the part. Make sure the design is slick to let the hiring manager know you have a creative eye.