As a front-end developer you're accustomed to presenting your work to the world. You have a head start in your job hunt because you know how to create excellent user experiences. This front-end developer resume example and guide offer ideas for translating that into a standout resume.
All excellent resumes combine user-friendliness with a convincing case for employment. The tricky part can be finding the right balance between an exciting design and one that overwhelms your message. How much self-confidence can you convey without sounding arrogant? That's where expert tools and advice help. Taking the time to research what gets positive attention from recruiters will pay off in more responses. After all, the goal is to get that interview. Resume.io's wealth of resources for job hunters, including our resume examples, can help give you that boost.
Within this resume guide and the corresponding front-end developer resume example, you will find information on the following topics:
What does a front-end developer do?
The framework for writing a front-end resume plus tips and tricks
The best format for a front-end developer resume
Advice on the summary, employment history, education, and skills sections
Ideas for creating a professional layout and additional design hints.
What does a front-end developer do?
Front-end developers are the coders of all the user-facing elements of websites, web applications, and mobile applications. They interpret the needs of the company and its customers and create easy-to-use, interactive web apps. Front-end developers must be adept at both programming languages and design techniques.
Common languages used by front-end developers are HTML, CSS, and JavaScript. These developers build the navigation, layout, and buttons that allow users to move easily around applications. They also ensure that user interfaces work properly. 
Some front-end developers focus on the client-side logic of web applications using JavaScript or TypeScript and frameworks such as React or Vue.
Front-end developer job market and outlook
The proliferation of coding camps and other short-term methods of learning software development has increased the number of front-end developers in the job market, but don't let that get you down. If you have the skills, there are plenty of jobs out there.
A search on Indeed.com revealed more than 23,000 listings for front-end developers. While the U.S. Bureau of Labor Statistics does not have a separate category for front-end developers, it predicts that the demand for web developers and designers will grow 13 percent by 2030, with about 17,900 job openings per year.
Statistical insight
How much does a front-end developer earn?
If you're looking for an entry-level position, you can expect to start out at about $60,000, according to ZipRecruiter.
With a few years of experience, that rises to $92,777, while senior front-end developers may earn more than $128,000 with the very top earners garnering more than $180,000.
How to write a front-end developer resume
The words you choose in your front-end developer resume carry weight – especially because they are limited. But before you focus on what to say, you need to know the framework in which to say them.
Your CV should contain the following standard elements:
The resume header
The resume summary (aka profile or personal statement)
The employment history section
The resume skills section
The education section
Expert tip
Account for algorithms
As a front-end developer, you know that a framework is merely the beginning. Although it may seem as though it will be difficult to create something unique out of something standard, that is far from the case. In fact, recruiters can sniff out a generic resume pretty quickly.  That means you need to approach each application afresh – with a front-end developer resume that speaks directly to each prospective employer.
Algorithms rule the online world, and job applications are no different. The Applicant Tracking System, which will analyze your application, will scan and sort resumes based partly on keywords and phrases attached to the job listing. Increase your chances by using the exact phrasing and skills you know your prospective employer seeks. This has the added benefit of telling software recruiters that you understand the job and its requirements.
Choosing the best resume format for a front-end developer
What's the difference between your front-end developer resume framework and the resume format? The framework is the components and the structure is the way in which you present them. Most resumes follow reverse chronological order. That's because recruiters are most interested in what you have done lately.
We recommend this method in most cases, but you may be an exception. You need to decide whether you can accommodate all your technical skills within this style of resume. If not, you may consider developing a functional resume, which expands the skills section at the expense of the space for your employment history. If you're a newly certified developer, you may consider a hybrid format.
Now let's get to the content of your front-end developer resume.
Resume summary example
Although it contains the word "summary," this section of your front-end developer resume is more akin to a professional profile. In about 100 words, you need to highlight your experience, your biggest career success, and perhaps, your design philosophy. 
This is the only section of your resume written in full sentences, but be careful not to waste words. Below are resume examples for editing yourself to maximize the amount of information you can include:
| | |
| --- | --- |
| Good | Better |
| I have more than 10 years of experience working with JavaScript. | In 10-plus years of JavaScript experience, I have enhanced dozens of applications. |
| My coding philosophy is fewer lines make for better code. | Streamlining code creates more nimble applications. |
To show that you really want this job, consider adding a sentence about why you're applying to the company and what value you will bring.
If you're searching for more inspiration, click over to other resume samples in our IT category, including web developer resume example, software developer resume sample, programmer resume example, software engineer resume sample, and full stack developer resume example.
Adaptable resume summary example
Highly accomplished and user-focused Front-end Developer adept in collaborating with UX and design teams to plan the technical writing and execution of functional specifications for websites and applications. Experienced in building multi-platform websites using Responsive Web Design/RWD. 
Employment history sample
Just as your summary is more than an outline of your career, the employment history section of your front-end developer resume is more than a listing of your responsibilities. Instead, illustrate that you've learned and grown on the job and have some significant successes to show for it.
Elegant code gets the job down with few wasted lines; in elegant resumes, each word counts. Start each item with a strong action word followed by the results of your action. This section comprises bulleted items, each one highlighting a career success that shows off the skills you will use to further the goals of your new employer.
Expert tip
First-time job resume
Everyone has a first job – or the first job in a new career. In either case, focus on transferable skills you can demonstrate through volunteer work, academic projects, or work in a previous career.
Elevate your skills and education sections and downplay your work history. Explain your position in your summary. For more guidance, check out this career change resume sample or our detailed guide on writing a resume with no experience.
Adaptable resume employment history example
Senior Front End Developer, IXF, Orlando 
August 2015 - Present 
Design, develop, test and deploy design features in a timely manner.
Continually work to ensure the user experience determines design choices.
Work to achieve a balance between functional and aesthetic designs.
Maintain brand consistency throughout the design process.
Apply engineering best practices.
Work to solve complex challenges with the utilization of modern web application development processes and standard methodologies.
Create wireframes to illustrate advanced solutions for applications.
Front End Developer, Sasco Group, Orlando 
October 2012 - July 2015 
Made high level contributions to a team leading site optimizations.
Worked with teams to solve issues and find and implement efficiencies.
Collaborated with product managers to design cutting edge features.
Worked to create tools that enhanced user interaction in any browser.
Ensured the technology implemented promoted efficiency, speed, and smooth functionality.
Continually tested the site for usability while addressing any bugs.
CV skills example
A great front-end developer resume will use the skills section to focus a recruiter's eyes on the high-level attributes necessary for the job. A typical skills section contains 4-7 attributes carefully correlated to target the position you are applying for.
If you choose the functional format, you can expand this section to include all the technical knowledge you have that matches the job requirements. Because your job is skills-focused, you may consider listing not only the ability but your expertise level. Here's an ATS hint: Spell out the full name and then put the acronym in parentheses after it to make sure you get algorithmic credit for your talents.
Adaptable resume skills section example
Knowledgable in User Interface/ User Experience
SEO Best Practices
JavaScript
CSS and JS Frameworks
CSS Preprocessors
Angular JS
Complex Problem Solving
Front-end developer resume education example
In your profession, you may need a bachelor's degree in computer science, unless you have a stellar portfolio. The education section of your front-end developer resume is the place to list all your academic achievements. You should also include any IT certifications you have earned. 
If you have a master's degree or higher, there's no need to include your high school diploma here. We recommend against including your GPA unless you are a recent graduate who has earned at least a 3.0.
Expert tip
Stay up-to-date
Programs, frameworks, and languages evolve quickly in the IT world, so keep your credentials updated through professional development opportunities.
Here are the top 10 skills you need today, according to Geeks for Geeks.
HTML, CSS, and Javascript
Front-end frameworks such as React, Angular, and Vue.js
Responsiveness
Version control systems
CSS preprocessors
Command line interface
Testing and debugging
Web performance optimization
DOM manipulation
RESTful APIs
Adaptable resume education example
Bachelor of Science in Computer Science, University of Central Florida, Orlando 
September 2008 - May 2012
Resume layout and design
This is where your expertise in user-friendliness will stand you in good stead. The main goal of your front-end developer resume design is to grab the attention of recruiters and create a smooth visual path through your document.
Keep in mind that you want your resume to offer a professional impression, so steer clear of overly ornate or colorful designs that will detract from the content (although, you know this – it's your business!).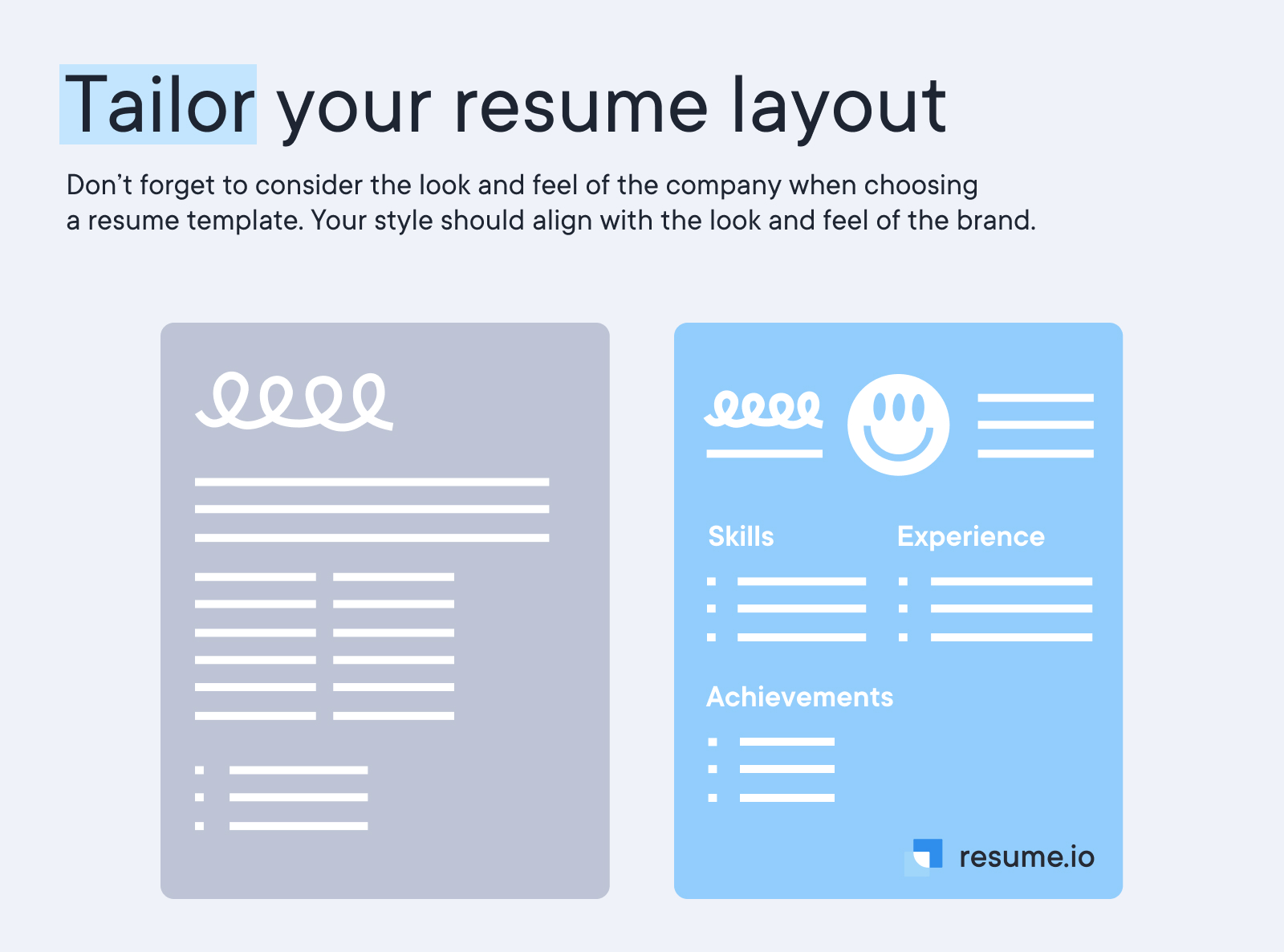 As you design, remember these resume-specific tips:
Keep your section names simple so recruiters can easily find what they need
If you choose to embellish your header, make sure your name, email address, best phone number, and title pop
Remember that the best fonts for the web may be different from the best print fonts
Use a resume-builder tool such as ours to link from your resume directly to your portfolio.
Key takeaways for a front-end developer resume
Front-end developers with experience and up-to-date skills are prized in the IT world.
Your knowledge in creating great user experiences will also help you develop a superior resume.
A functional resume format may suit you best if you have expertise in multiple software languages and other highly technical knowledge.
If you don't want to code more after a hard day's work, take advantage of our expertly-designed resume templates to give your job hunt a jumpstart.