Google tops the corporate charts on so many metrics, so its permanent place as one of the Glassdoor's best places to work comes as no surprise. They receive more than 2 million applications a year and it is harder to get a job at Google than get into Harvard.
Google touches more parts of our life than we realize, and the diversity of roles there is almost as broad as its diversity of thought.  So, how do you create a Google resume to showcase your brand of thinking outside the box?
Given that the focus at Google is innovation, individual excellence is welcomed and rewarded as an integral part of the overall team effort and as such, there is no such thing as a typical "Google" employee. They do value people with "T-shaped" experience – where they are deep in knowledge in a certain area with a broad understanding of many others. The recruiters at Google are used to looking beyond the basics of every application, but it is still up to each candidate to give them the hints of what lies beneath. Google even share have a fascinating guide to writing a resume.
A succinct resume that will distill the essence of your individuality is far from easy to achieve on one page. Google do prefer the resume to be as brief and impactful as possible, so how do you go about creating your innovation highlights reel? A job at Google is worth a ten-page essay, but targeted brevity is what will secure you that job.
This guide, along with our resume example and resume sample writing will cover the following:
What Google values in an employee and how to reflect this in your application
How to choose the best format for your Google resume
Pick a structure for your resume that will help to land a coveted role at Google
Maximize the effectiveness of each resume section (with resume sample writing)
Common mistakes to avoid in your Google resume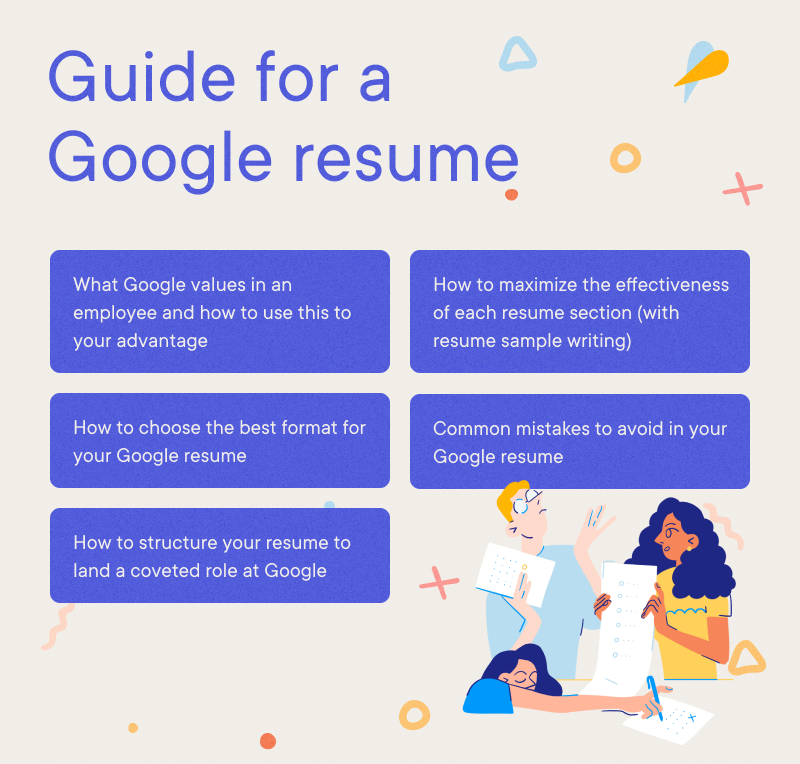 How to write a Google resume
As mentioned, there will be no unified Google resume as every applicant has their own secret sauce when they write a Google resume, but there are a number of common themes in every successful application. Google tends to look beyond traditional metrics, and this is where you get noticed (or get sent the dreaded rejection letter).
Your ability to learn on the job should feature strongly in your resume - pulling together strands of disparate information and coming to sometimes surprising conclusions. Every successful Google resume will include aspects of a journey of growth and discovery.
You need to demonstrate experience of leading a team, both from the front and also stepping back when others are more qualified to do certain things. Common ownership of problems and the humility to embrace the ideas of others is central to the company ethos. Great people doing what they are uniquely best at will ensure great things.
Expertise is still important, but Google cares most about what you do with what you know. A stellar G.P.A. is no good if you can't make a great decision in the white heat of the moment.
In your resume, show you can learn, lead those around you and channel your experience.
Expert tip
Here is Google's resume advice on their careers page – in their own words:
Align your skills and experience with the job description. Tie your work directly to the role qualifications (and don't forget to include data).
Be specific about projects you've worked on or managed. What was the outcome? How did you measure success? When in doubt, lean on the formula, "accomplished [X] as measured by [Y], by doing [Z]."
If you've had a leadership role, tell us about it. How big was the team? What was the scope of your work?
If you're a recent university graduate or have limited work experience, include school-related projects or coursework that demonstrate relevant skills and knowledge.
Keep it short. We don't have a length requirement, but concision and precision are key — so think twice before letting your resume move onto multiple pages and take careful aim with your information.
The Google resume needs to be intimately tailored to the role in question. 1. It helps you to get past the fiendishly clever Google ATS (would you expect anything less?) and 2. it makes it easy for your future boss to quantify your potential. Every department at Google has a different feel to it, so make it as granular as possible.
While the resume should be as individualistic as possible, any resume example should still include these sections:
The summary is your Google elevator pitch – personality and achievements
Your employment history details only the most relevant parts of your career history
The skills section should be laser focused on the nature of your unique difference
The education section is still important – it is the foundation of your potential
The following chapters will look at these in more depth.
Choosing the correct CV format for a Google job
In most cases, the best CV format for Google will be reverse chronological. This is defined by the approach of impressing the hiring manager or recruiter with your most important employers and past projects. It's hard to deny that your work experience pedigree can heavily influence the hiring decision at such a prestigious company. It's important to note that this type of CV format puts the employment history section in the spotlight and front-loads most of the resume's space into it. You can check out how this type of resume format looks in our resume samples.
On the other hand, a functional resume (one that emphasizes the skills or projects section) can also be a viable pick for a Google resume format. The functional format is great for niche specialists or heavily tech skill oriented specialists. For example, if you're an expert in AI/ML, it might make a lot of sense to expand on that skillset. However, note that the same can be achieved if you took part in AI/ML projects or worked at companies that specialized in this type of coding.
At the end of the day, it's your decision to make based on your own career and history. The resume format choice is a personal one. Most candidates will likely go with the reverse chronological though (it's also what most of our resume examples are based on as the essential foundation). It is likely that you will have worked at a similar-sized company, so why not put your most recent employment front and center?
The next most important consideration about the format and resume template when applying for a role at Google is that it is clear and easy to read. The hiring managers won't be impressed by a fancy font or a splash of colour. They will look past the superficial and focus only on what you have written. Why would you risk distracting them?
Our modern resume templates will suit any technology professional and may be the exact sleek design you need to fit in with a design-conscious tech crowd. Alternatively, have a look to see what you think at the other resume templates if the modern ones don't fit the bill. The most important consideration is not sending them a word resume with dodgy formatting that looks like a four-year-old has designed it. 
Google summary example: Be what they are searching for
While we will take a deeper dive into the writing of your summary in the resume sample below, first remember one important rule: your summary needs to showcase your "googlyness" in a couple of short sentences.
Yes, that is a real word. Whether your Google resume is highlighting your passion, drive, entrepreneurship, creativity or grit, before you start your journey towards a career at Google, you should have a serious think about what "googlyness" means. Build your resume around it, starting with the elevator pitch of your summary section.
The summary lets you reach the hiring manager on a very personal level. How can you help them and their team to elevate their performance yet further? What is your go-to Google resume example to highlight your persistence and ability to take others with you? What mix of skills do you possess that others may struggle to match?
Expert tip
Find out all the information that you can online. Google them. Ahem, sorry….
To start with, check out where they suggest reading. Look at the Google company and our teams pages. Sit down with a coffee in front of their YouTube. Subscribe to the blog and understand how Google care for their Googlers. You will only understand whether you fit in (you might not) if you do your research and be honest with yourself. Otherwise the application might simply be a gigantic waste of time (it will take a lot of time).
Check out the summary section from our Google resume example below.
Adaptable summary example
Dynamic Project Manager with vast experience in vendor management, customer support, and customer experience optimization. Adept in providing helpful data analysis, troubleshooting, and cross-functional company support. A versatile team player with a passion for learning and growing within an organization. 
Employment history example: What makes you worthy?
There is no company in the world like Google, but that doesn't mean that much if your employment history isn't worthy of Google. Be deliberate with the stories you tell, quantify everything with numbers and context, and put yourself in the place of your future boss and colleagues when you read it back.
Your Google resume should read like you already have what it takes to smash the role in question.
Expert tip
Here are ten different scenarios for resume accomplishments
Increase sales or profit margins
Financial cost savings / improved bottom line
Improved productivity in terms of time spent
Solutions that you found to unsolved problems
Innovations or ideas that have led to a step-change
Processes improved and procedures developed
Awards that you have won (with a reason why)
Promotion to a different role in the company
Impact on the development of those around you
Offer outstanding service to customers or clients
Are you saying the sorts of things that make you sound like an irresistible future colleague? You only need to give a taste to be able to start a conversation to continue at the interview stage, but you need to show that these aren't the sorts of conversations that a hiring manager could have with anyone else. Being slightly better than average won't be enough. Your Google resume should help you to stand out for all the right reasons.
Below is an excerpt of the employment history section from our Google resume example.
Adaptable employment history example
June 2017 - March 2021
Project Manager, Verizon Communications, Newbury Park
Brought forth a strong knowledge of user experience data.
Continually identified and delivered scalable solutions.
Served as an enthusiastic cross-functional partner.
Worked with stakeholders to plan requirements.
Used technical judgment to drive project delivery.
Coordinated with stakeholders to manage and control project issues.
Skills example section: Define your excellence
The job descriptions at Google are some of the best in the business. The only problem is that every candidate will have access to them, so when it comes to describing your skillset, it is not enough to parrot the job description.
Expert tip
Here are the top tech skills (and resume keywords) for some common roles:
Designers: UI design, graphic design, web design, photoshop, information architecture
Software engineers: C++, C, C#, Java, Python, Javascript, Agile methodologies, SQL
Product managers: Project manager, leadership, customer, cloud computing, strategy
Data scientists: Machine learning, SQL, Python, Data mining, project management
You have to look deeper to see the skills behind the skills. For example, it might state that you need UI design experience, but how does UI design differ at Google? What projects will you be working on? How will you fit into your UI team? Which specific skills make a Google UI designer awesome? Answer those questions, and you will have one foot in the interview door.
Below you can find the skills section from our Google resume example.
Adaptable skills section example
Adaptability
Effective Time Management
Interpersonal Skills
Dedicated team player
Strategic Planning
Education example: Numeracy and communication
When you are competing with countless other amazing job seekers for a role at Google, you need to make sure that your education section is on a par with the best. Include all further education and additional qualifications you might have. Google places a great importance on the development of their people, so showing that you have an appetite for learning is a good sign. Don't be scared to include a second page if your list of certifications and education is particularly long - it is that sort of appetite for development that will demonstrate your passion.
Below you can find the education section from our Google resume sample.
Adaptable education example
September 2010 - May 2014
Bachelor of Arts, Seattle Central College, Seattle
 
September 2006 - June 2010
High School Diploma, Ballard High School, Ballard
What are the most common roles at Google?
While there are roles in every conceivable functional vertical, the most common roles remain technology or design based. Whatever role you work in, you will have a direct or indirect impact on these areas, so include them in your resume career story wherever possible. 
Engineering: Technical roles at Google include software engineering, STA engineering, application development, product management, etc.
Business: Non-technical jobs at Google include quantitative business analysis, business operations management, sales strategy, etc.
Design: You can also apply for roles such as UI/UX designer, UX writer, visual designer, UX researcher, etc.
Key takeaways
Create a Google resume that showcases your blend of googlyness.
Write a summary to outline why you are what they are looking for in their next hire.
Pick career accomplishments that show you're worthy of a spot on the Google team.
Make sure that the format does not distract from the amazing career content.
Be humble about your abilities – let your career speak for itself. Quiet confidence goes a long way.
Use our resume examples, resume sample writing and online tools to take care of the heavy lifting… while you focus on the content! Your story will secure you the job, but how you present it matters immensely too.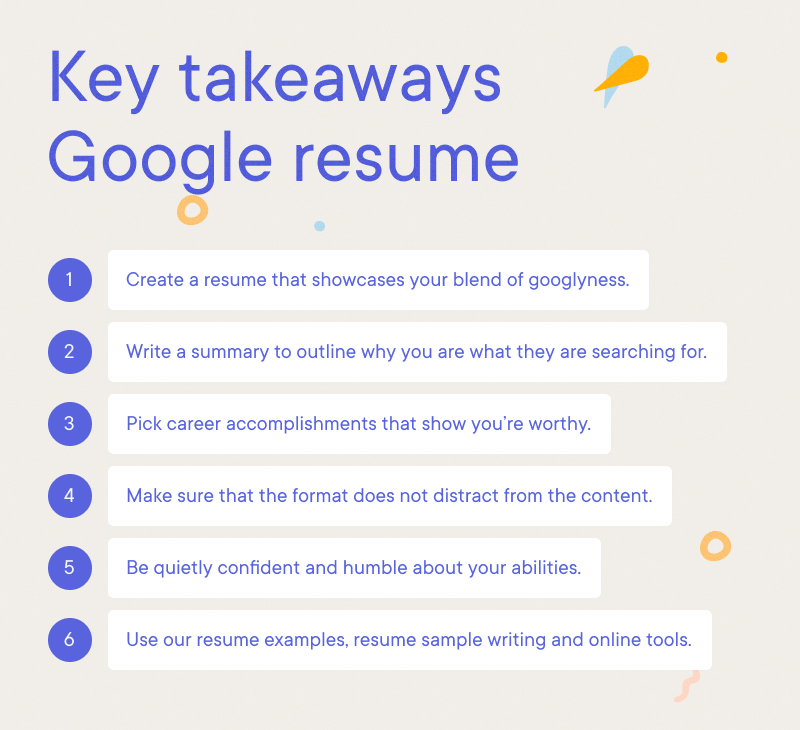 Here are some more related resume examples to get you inspired: